Lead Pastor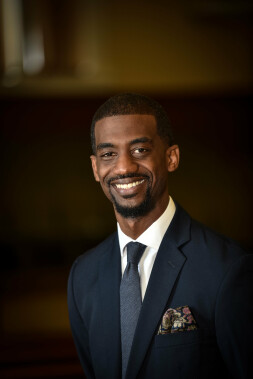 QuanTez Pressley, Lead Pastor at Third New Hope Baptist Church
QuanTez Pressley has spent the majority of his life serving others as a community organizer, public servant, and ordained minister.
​QuanTez Pressley graduated with honors from Renaissance High School in 2004, where he held numerous positions including President of the City-Wide Student Council, Youth Governor of the YMCA's Michigan Youth in Government Program, and Presiding Officer for the Conference on National Affairs. In his senior year, QuanTez made history as the first student ever appointed to serve on the Detroit Public School Board of Education at the age of 17.
Upon graduating from Renaissance, QuanTez earned his B.A. degree in Religion and minor in Political Science from Morehouse College in Atlanta, GA. While at Morehouse, QuanTez worked as Chief of Staff for the Student Government Association, functioned as a student advisor to College President the Rev. Dr. Robert Franklin, served as a member of the Martin L. King, Jr. International Chapel Assistants Program, and sang baritone in the world-renowned Morehouse College Glee Club and Morehouse College Quartet.
In 2009, after graduating from Morehouse, QuanTez returned home to Detroit where he began working for City Connect Detroit, a nonprofit organization managing the city's summer youth employment program. Not soon thereafter, QuanTez transitioned to the governmental sector, working for the City of Detroit, where he would ultimately become the Chief of Staff to the Detroit City Council President in 2011. After working for the City for three years, QuanTez would accept a position at the State, where he served as the State Director of Community Schools - overseeing the operation of over 200 Community Schools State-wide. In 2012, because of his exceptional work and community service, QuanTez was named one of Michigan Chronicle's 40 under 40 honorees.
In 2015, QuanTez would leave the governmental sector to attend Union Theological Seminary in the City of New York (Columbia University), in pursuit of his call to full-time ministry. As a seminarian, QuanTez was awarded the Union Scholarship, served as a Poverty Fellow for the Kairos Center, and received the Hudnut Preaching Prize in 2017, an award given to the student who has shown the best preparation in preaching ministry. In May of 2018, QuanTez earned his Masters of Divinity Degree in Christian Social Ethics from Union Theological Seminary.
Beginning, January 1, 2020, QuanTez Pressley began his tenure as the Lead Pastor of the Third New Hope Baptist Church in Detroit, MI. He has accepted multiple invitations to preach, teach and lecture for churches and religious organizations across the State including, the Michigan Progressive Baptist Convention, the Michigan District Baptist Association, the Baptist, Missionary, and Educational State Convention, the Congress of Christian Education, as well as the Council of Baptist Pastor of Detroit and Vicinity, where he is a member.
Moreover, a proud member of Omega Psi Phi Fraternity, Inc., QuanTez has served as an advisor to several elected officials, political candidates, and community leaders. QuanTez, the fourth of five children born to Larry and Doris Pressley, enjoys a blossoming marriage with his beautiful wife, Mrs. Aishah Pressley, health advocate and owner of Vitality, LLC.