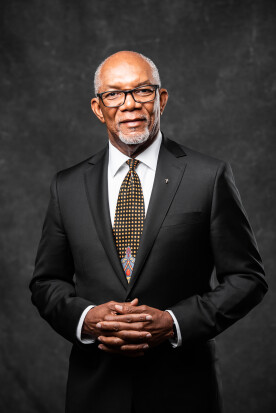 Dr. E. L. Branch, Pastor Emeritus
Edward L. Branch is a native of Chicago IL, having served as Minister of Music for the New Mt. Sinai Baptist Church through his teen years. He relocated to Detroit in 1975 and served the New Jerusalem Baptist Church as assistant pastor to Rev. Lawrence J. London, then became associate minister of the New Bethel Baptist Church in 1976 under the late Rev. C.L. Franklin. In 1977 he was called as pastor of the Third New Hope Baptist Church where he served for forty-two years, retiring December 31, 2019.
EDUCATION: Pastor Branch holds a Master of Arts degree and a Master of Divinity degree from the Ashland Theological Seminary. In 2012 Ashland Seminary bestowed an honorary Doctor of Divinity degree upon Pastor Branch in acknowledgment of his years of service as Adjunct Professor and Advisory Board Member.
DENOMINATION SERVICE: Pastor Branch served as president of the Baptist, Missionary and Educational Convention of Michigan (1996-2004), the Council of Baptist Pastors of Detroit and Vicinity (1999-2001) and the Kingdom Building Pastors and People International (2002-2005). He served as a member of the board of directors of the Sunday School Publishing Board of the National Baptist Convention, USA, Inc. (2009-2014).
COMMUNITY SERVICE: Pastor Branch's community service began with the Detroit Compact, a collection of community leaders working with the Detroit School Board. He joined the board of Black Family Development in 1980; serving also on the board of Detroit Youth Foundation, United Way of Southeastern Michigan, the Arts League of Michigan, and Crime Stoppers of Michigan.
Pastor Branch serves as a chaplain with the Wayne County Sheriff's Office since 2013. While functioning as an adjunct professor for Ashland Theological Seminary, Pastor Branch gave leadership to the ATS-D Board of Advisors. He went on to become an Advisory Member of the ATS Board of Trustees.
ADDITIONAL HIGHLIGHTS: Pastor Branch founded the Heritage Center for Religious Studies in 1988 on the main campus of Third New Hope Baptist Church. Pastor Branch's ministry has reached more than twenty countries on five continents. He boldly embraces Luke 4:18 as his personal mission statement: "The Spirit of The Lord is upon me for he has anointed me to preach the gospel..." His ministry is one of justice and liberation for all people. Pastor Branch is committed to making the wounded whole.
Pastor Branch and Sister Lanell have one daughter, Nikkiya, who is an attorney.
Pastor Branch is a Finisher in 20 Half-Marathons and he wears a Brown Belt in Isshinryu Karate. He plays Piano, Organ and Guitar. Pastor Branch is also an avid Golfer.

Pastor Branch and Sis. Lanell